Starting a singing group
Being part of a team has such a positive impact on wellbeing. Singing groups are a great way to be part of a team and in Aotearoa, more people sing in choirs than play rubgy!
Starting a singing group or choir in your school can help children to develop a lifelong love of music. It can give them the chance to learn songs from different cultures, express emotions through music, and give joy through performing.
---
Things to consider:
If you are looking to start a singing group in your school, NZCF resource, Hear Our Voices, has tips and advice - and you are welcome to contact us for support!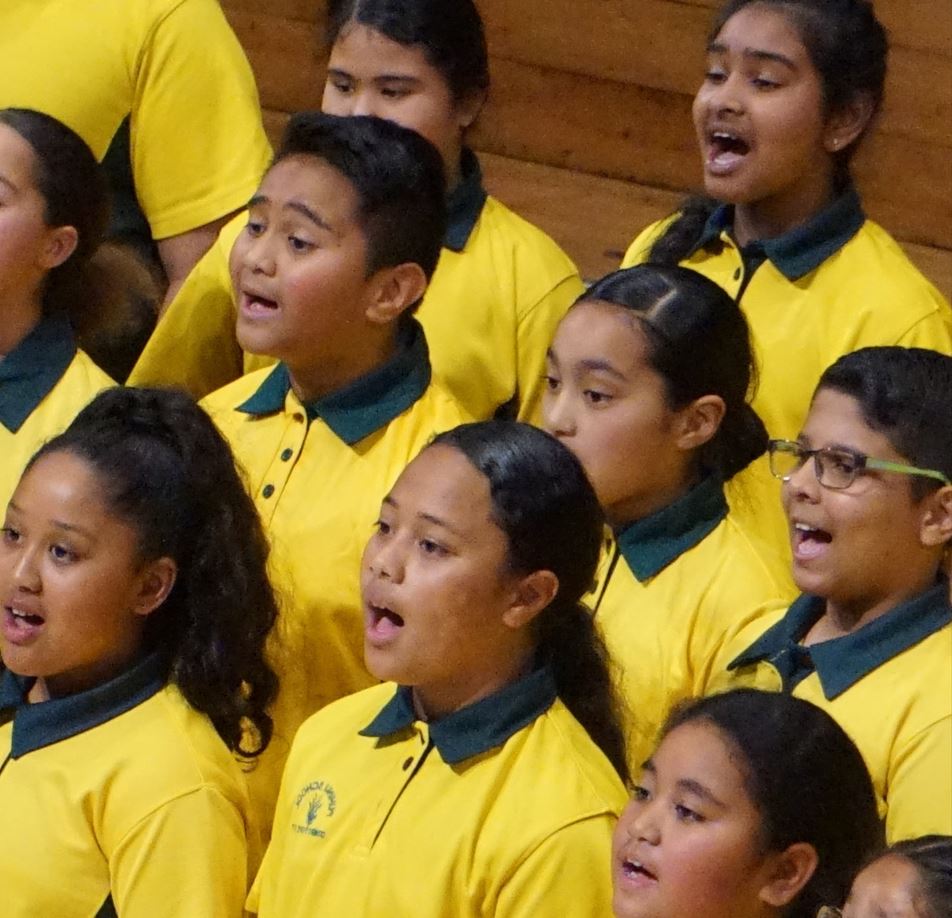 Performance opportunities and goals
It's always good to have a goal for your group as this will help direct your ideas for songs/repertoire, and how you plan your practises.
It will help your singers to have a purpose or goal to work towards – for instance, singing at an assembly at the end of the term, for a special occasion, or maybe a joint performance with other schools.
Before committing to a performance, though, work out how much time you have, and what you might need to make sure your group gets the best chance to shine!
---
Where will you hold rehearsals?
Classroom – Hall - Other space?
If you can, try to rehearse in a space where the students can sit on chairs in rows, ideally spaced out in a semi-circle.
This will make it easier for you to maintain eye contact - and the students will have better posture if they are not sitting on the floor, which means that they will be able to sing better!
Make sure that the space you will rehearse in has room for the things you need - a keyboard if you are using one, or a projector if you plan on using one for lyrics etc.
Consider opening a window when you rehearse to keep air circulating.
---
How old are your singers?
This will influence your decisions about the songs/repertoire you choose, goals for the group, and the length of your rehearsals.
A 45 minute rehearsal will often be fine for upper primary or intermediate students, but be too long for younger students.
---
When will rehearsals take place?
Lunchtime - Morning tea - During school time - After school?
It can be challenging to find a time when the students - and a space to rehearse - are available.
Try to find a time when students can focus - perhaps before school or during class time if possible when there will be fewer distractions.
Whatever you choose, keep the rehearsal time the same every week to build up a routine and it can be helpful to keep track of attendance while students build the habits of being in a singing group.
---
What resources do you have already, and do you have a budget for resources/music for example:
Sheet music - Music books - Bluetooth Speaker/CD Player?
You may have resources already in the school or be able to borrow them from other schools.
You can borrow NZ sheet music from SOUNZ - the centre for NZ music - and there are repertoire ideas below.
See our Resources for Teachers page for further ideas, links to music publishers, and copyright information for schools.
---
Support
Keyboard/Piano – Guitar – colleague to assist – school support?
If you can have someone play even some of the vocal notes on a piano or keyboard it can be very helpful, even if you are using backing tracks.
Having a support adult will make choir rehearsals easier too as they can manage any behaviour issues while you focus on leading the singing. Your students will also love having an adult learning alongside them!
---
Boys in your singing group or choir
Boys love to sing and there are a number of ways you can encourage them!
Friendship and camaraderie is important to boys when choosing to join a choir.

Provide appropriate role models of young men enjoying singing.

Keep the choir session moving, using kinaesthetic activities and humour to keep the rehearsal moving.

Use competition and games during rehearsals.

Support boys to keep singing as their voices change.
For further ideas, see Tim Carson's "Kiwi Boys Can Sing!"
---
Help and advice:
If you are interested in advice or applying for mentoring through this "Singing for Lifelong Wellbeing" project (which runs until June 2024) we would love to hear from you. Mentoring is aimed at teachers starting choirs from scratch.
Ongoing opportunities are also available through NZCF if you are leading a primary or intermediate singing group or choir already and are wanting to up-skill:
---
Resources for your singing group or choir
---
Games and warm-ups
---
Year 1-2
Free resouces:
In the spring - Sing Up
Good vocal range
Interesting melody, catchy, easily learnt
Repetition aids learning
Cute
---
Year 3-4
Free resources:
Seasons (vocal)(instrumental) - Kiwi Kidsongs
Lovely lyric melody; slower, gentle
Echo texture in chorus is good introduction to part-singing
Long smooth vocal lines/phrases – good for teaching control, expressive singing
Repetition aids learning
Verses are vocally a little low, but the chorus sits in a good range for young singers.
The spectrum song – Sing up (Instrumental version on Spotify by The Toontown Tooners)
Good vocal range
Fun, catchy melody; some technical skill in managing the jumps
Lots of words! Good diction exercise
Repetition aids learning
What makes a family – Sing up
Good vocal range
Catchy melody
Backing track
Good message
Clear melody, not overpowered by harmonies or instruments
Earth – Friday afternoons (free but need to register for access)
Lyric video with backing track
Good vocal range
Interesting melody
Lots of contrast between smooth and detatched vocal melody, dynamics/louds and softs
In the spring - Sing Up
Good vocal range
Interesting melody, catchy, easily learnt
Repetition aids learning
Cute
---
Year 5-6
Free resources:
Love as our guide - Sing up
Lyric video and support materials
Interesting melody
Pop anthem style; spoken chant/layer
Repetition aids the learning
Good message
Good vocal range
Clear melody, not overpowered by harmonies or instruments
Be the change - Sing up
Lyric video; performance track and backing track
Good vocal range
Catchy, easily learnt; early harmony work with layers
'Pop' song character
Lots of repetition aids learning
Good message
The little girl of rain - Friday afternoons
Very atmospheric; good for developing expressive singing
Interesting melodic line; long legato phrases
Piano part independent from singing
Repetition aids learning
---
Year 7-8
Free resources:
Tihore mai – TKI (Moana and the Moahunters)
Good opportunities for harmony work
Interesting melody, catchy
A cappella (without instrument)
Small vocal range – be careful not to start too low! Suggested starting pitch = F
There's a power in the music – Sing up
Lyric video
Good message
Good vocal range
Repetition aids learning
Contrasting textures – starts gently, becomes epic and 'anthem-like'
Take the world apart – Cat Stevens
Lyric video
Good message
Interesting melody
Good vocal range
---
---
This collection is still under development. Please contact us if you would like further suggestions. See our "Resources for teachers" page for information about music publishers, and composers of music for children.