Save the Dates – Choral Connect & Sing Aotearoa 2023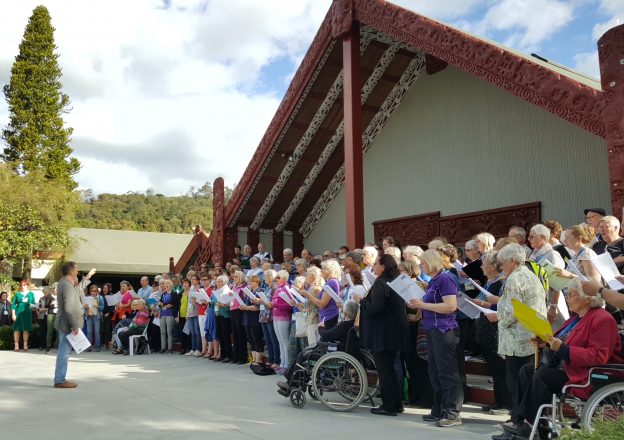 We're holding two of NZCF's flagship events back-to-back in 2023: Choral Connect and Sing Aotearoa.
Choral Connect is our biennial professional development conference for choral leaders and was last held in July 2021 in Auckland.
Sing Aotearoa was devised as a triennial festival for choral singers but has not been held since 2016, so we're thrilled to be able to finally present the festival again in 2023.
Dates for your diary:
Choral Connect: Wednesday 27 – Friday 29 September 2023
Sing Aotearoa: Friday 29 September (evening) – Sunday 1 October 2023
What is Sing Aotearoa?
Since 1990, Sing Aotearoa has been the leading festival for choral music in New Zealand. Singers from around the motu have gathered for a weekend of singing, practical workshops, and performances, directed by some of the country's most prominent choral artists.
We're thrilled that, for the first time, Sing Aotearoa will be held in Tāmaki Makaurau at the Dew Drop (formerly Vodafone) Events Centre in Manukau, South Auckland, from Friday 29th September to Sunday 1st October. The theme of this year's festival is We Are One Voice.
As one of the cultural centres of our Māori & Pasifika communities, South Auckland is the ideal location for us to come together as a singing nation, to share and celebrate the diverse singing traditions of Aotearoa New Zealand. There will be something for everyone at this festival, which is open to all ages and experience levels. Singers can register with their choir, in small groups, or as an individual. Choirs can also apply to perform at one of our informal lunchtime concerts – applications will open early 2023.
We're delighted to announce that the Artistic Directors for Sing Aotearoa 2023 will be Dr. Igelese Ete and Jono Palmer.
Who should come to Choral Connect?
Choral Connect is our professional development conference for leaders of all types of group singing, and will run in 2023 in the three days immediately prior to Sing Aotearoa, so that conductors will be able to participate in both events. The conference will run from Wednesday 27th September until Friday 29th September at King's College in Ōtāhuhu.
At Choral Connect '23 we plan to reinstate the conducting workshops and masterclasses that have formed a vital part of practical conductor training in the past. We'll also have presentations on a range of topics pertaining to choral leadership, as well as evening choral showcases.
We're thrilled that Dr Karen Grylls will return as Artistic Director for Choral Connect '23, assisted by Jono Palmer as Artistic Programme Coordinator.
---
Details of pricing and presenters for Choral Connect and Sing Aotearoa will be available in early 2023.