Register for the 2024 World Choir Games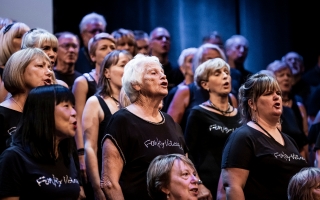 Nearly 150 international choirs have already registered for the 2024 World Choir Games in Auckland, and we can't wait to welcome them onto our shores and into our concert halls. We also can't wait for you to join them for this joyful celebration of choral creativity, diversity and friendship.
Competing in the Games is open to absolutely everyone: experienced and novice, schoolchildren and seniors, with no fewer than 28 competition categories across age and experience levels, choir sizes, musical styles and cultural traditions. However, this isn't the only way you and your choir can take part.
If you would love to be involved in the Games but would rather not compete, we still want you to come and be part of it all. There are workshops and seminars led by top practitioners that you can join. You can still present a programme and have it evaluated privately by an expert panel, have a friendly coaching with an international conductor, and/or perform in one of the community friendship concerts being held around Tāmaki Makaurau.
Read our FAQs page to learn more about ways your choir can participate.
After the restrictions of the last three years, the World Choir Games offers a special opportunity for your choir to spend time together and to mix with singers from all over the world who share your musical passion. Book the (very reasonable) Games event package, hop on a flight or a bus, and join the 10,000 others, from some 300 choirs, who will flood the downtown Auckland for this stunning festival!
Since this is the first time in its 24-year history that the Games will have been hosted in Oceania, or indeed within 8,000km of New Zealand, it is unlikely that the event will return here for several decades. This really is your one chance to experience a choral event of this international scale and profile!
The final deadline for registrations, 6 December, is fast approaching, so now is the time to chat to your conductor, administrator and fellow members. Don't forget there's a special discount for NZCF members. We can't wait to see what you'll bring to the party!
---
Some comments from previous participants...
- "The competition has been a dream-come-true for our choir! We couldn't be prouder! It was a lifetime achievement and experience none of us will ever forget."
(Bulgarian community choir – WCG 2021, Flanders)
- "We just have to tell you right now: we loved the whole event!"
(Namibian chamber choir – WCG 2014, Riga)
- "What a wonderful event and what a wonderful time we had! And on top of that to have been a category winner was just amazing! My students are still talking about it and I know they will continue to do so for years to come!"
(USA college choir – WCG 2014, Riga)
- "You told us it would be life-changing... and it truly was. The choir can't wait to come to Auckland."
(Australian children's choir – WCG 2023, Gangneung)
---
Register for the 2024 World Choir Games