Let the Games begin!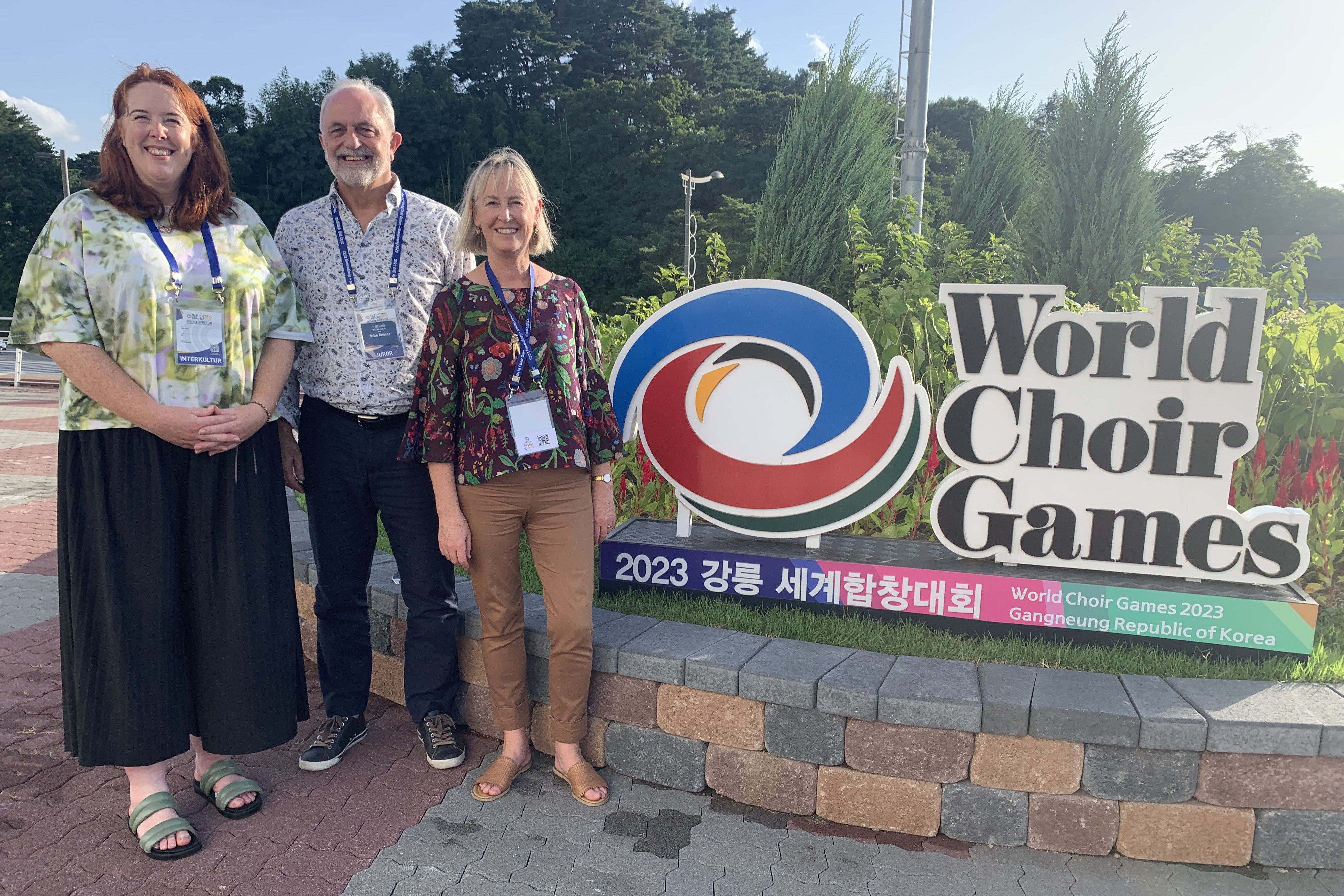 The 12th World Choir Games are currently underway in Gangneung, South Korea, with over 300 choirs from around the globe taking part in 10 days of competitions, non-competitive evaluation sessions, workshops, coaching sessions, friendship concerts, awards ceremonies, celebration concerts and more!
John Rosser, Christine Argyle and Kylie Sealy are currently in Gangneung, with Kylie scoping out the event (as Executive Director of the 13th WCG in Auckland next year), and John and Christine serving on the international jury (while also taking the opportunity to see behind the scenes, ahead of our own hosting in 2024!). Christine says: "These really are the friendly games, with choirs ranging from small children through to seniors, all having the time of their lives! The emphasis is very much on participation and encouraging choirs in the next stage of their progress, wherever they are at. Having seen the event first-hand now, I know our New Zealand choirs will be totally at home competing alongside choirs from around the world. And for those that are shy of competing, I would really encourage them to come and take part in the non-competitive evaluation and coaching sessions, and to be part of a spectacular event that will go down in the choir's history."
Pre-register for WCG2024 by 20 July with no obligation
Pre-registrations for the 13th World Choir Games in Auckland are open until 20 July. By pre-registering, choirs from outside Auckland can take advantage of a special discount offer on the Event Package (covering local accommodation and transport), making it even more affordable to be a part of the event. To secure your place and access the discount, simply fill in the pre-registration form - the perfect way to keep your options open, with no obligation!
WCG2024 FAQs
Want to find out more? Check out the new WCG2024 FAQ page on our website, and send any further questions you may have to info@wcg2024.co.nz. The team are more than happy to provide you with all the necessary information you need to be part of the Games next year.