Solid Gold Celebration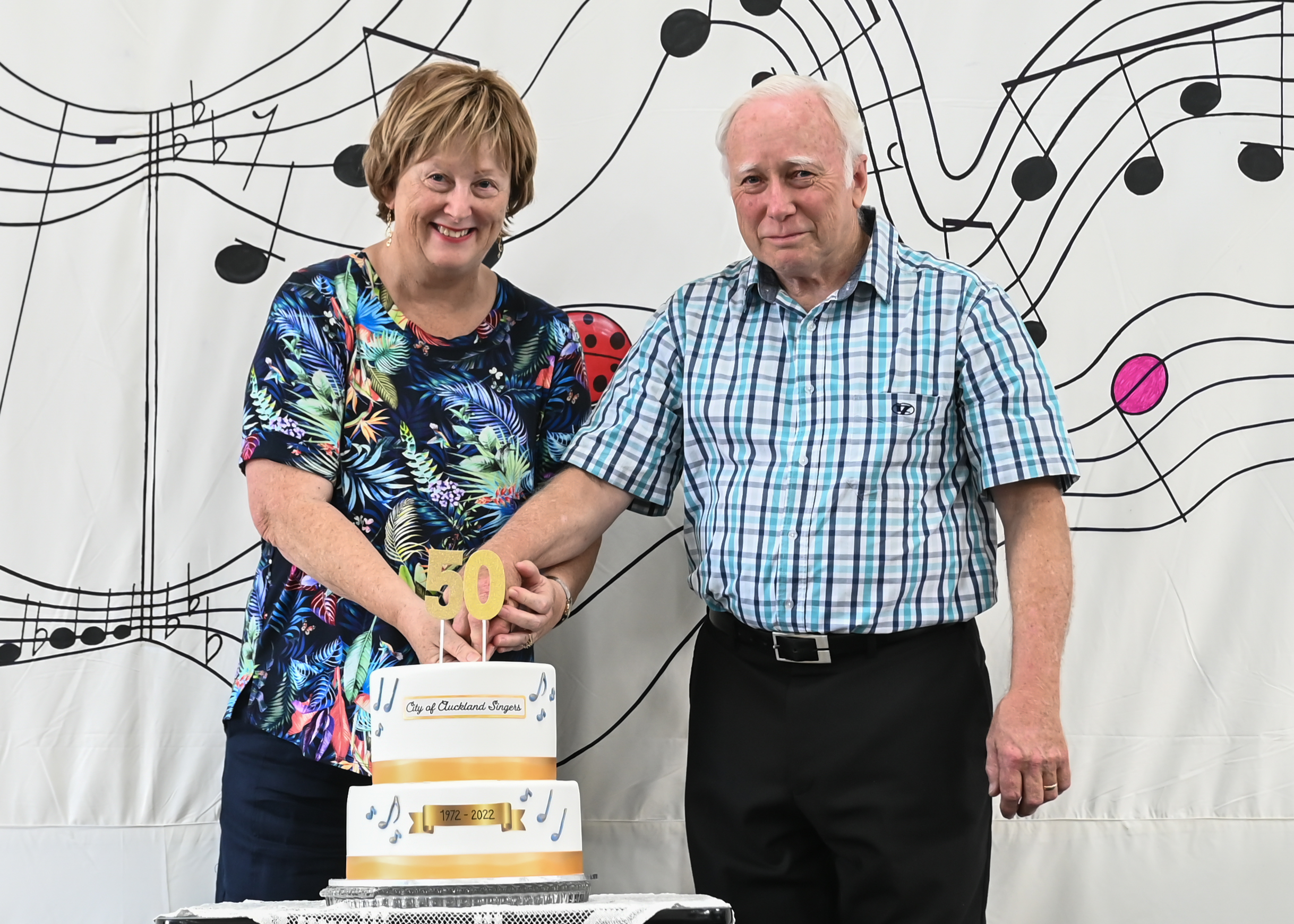 5 April 2023
Article supplied by Julia Banks
Last month The City of Auckland Singers reunited with past singers and friends to celebrate 50 wonderful years of music, courtesy of Sue and Bruce Murray. The couple were awarded a beautiful engraved trophy infused with gold highlights to mark the Golden Anniversary of the group.
It all began in Glendowie, back in 1972 when a young man named Bruce Murray became a founding member of a mixed voice choir of some 17 singers calling themselves "The Harmonaires". They went on to perform for many gatherings including various music clubs, retirement villages and charity shows and have continued to stage an Annual Concert to this day. In 1977 Bruce and Sue married, having long known each other through their church and their shared love of music.
The group happily performed around Auckland under the title The Harmonaires for 10 years until, whilst recording for the Rothmans Radio Programme apparently the group was informed that their name was "old hat"! So at the drop of another proverbial hat they changed it on the spot to "The Bruce Murray Singers". Not wildly imaginative - but a good working name for many years of sing-outs, concerts and successful entries in singing competitions.
When the rehearsals moved to Pakuranga, they still drew in members from across Auckland and even further afield. The new millennium brought a new look to The Singers - they added movement to their music which helped woo the judges at the North Shore Competitions, gaining the choir yet another trophy to add to their collection of awards.
Several wonderful pianists have accompanied the Singers (in every sense!) through this long and beautiful musical story and Bruce himself has been a tireless provider of singing parts on his keyboard for personal practice at home, as well as for use in rehearsal and performance.
In 2007 Bruce Murray handed the baton over to Sue and concentrated on singing tenor - and sometimes bass. Sue, moving from alto line to front of stage, stepped comfortably into the role of conductor. Between them they have sourced and taught hundreds of delightful songs for the Singers and their audiences to enjoy.
Local trips have included regular visits to sing in Thames and Waiuku. Choir members (and often their families) have enjoyed several musical trips to sing in exciting choral festivals and competitions in Italy and Tasmania and have performed in the Sydney Opera House as well as in Wales at the prestigious Eisteddfodd.
For the past few years The City of Auckland Singers have been a favourite group of entertainers at the MOTAT Christmas Lights (except when Covid intervened, when they dedicatedly continued to rehearse via Zoom). Last month they offered their services, performing at The Glades in Te Kowhai to help raise funds for those with dementia and people affected by the Cyclone.
And the future looks bright with an upcoming trip to Alta Pusteria in Northern Italy, to represent New Zealand in The Choir of a Thousand Voices from around the world!
What an amazing 50 years!