Inspiring Sing Aotearoa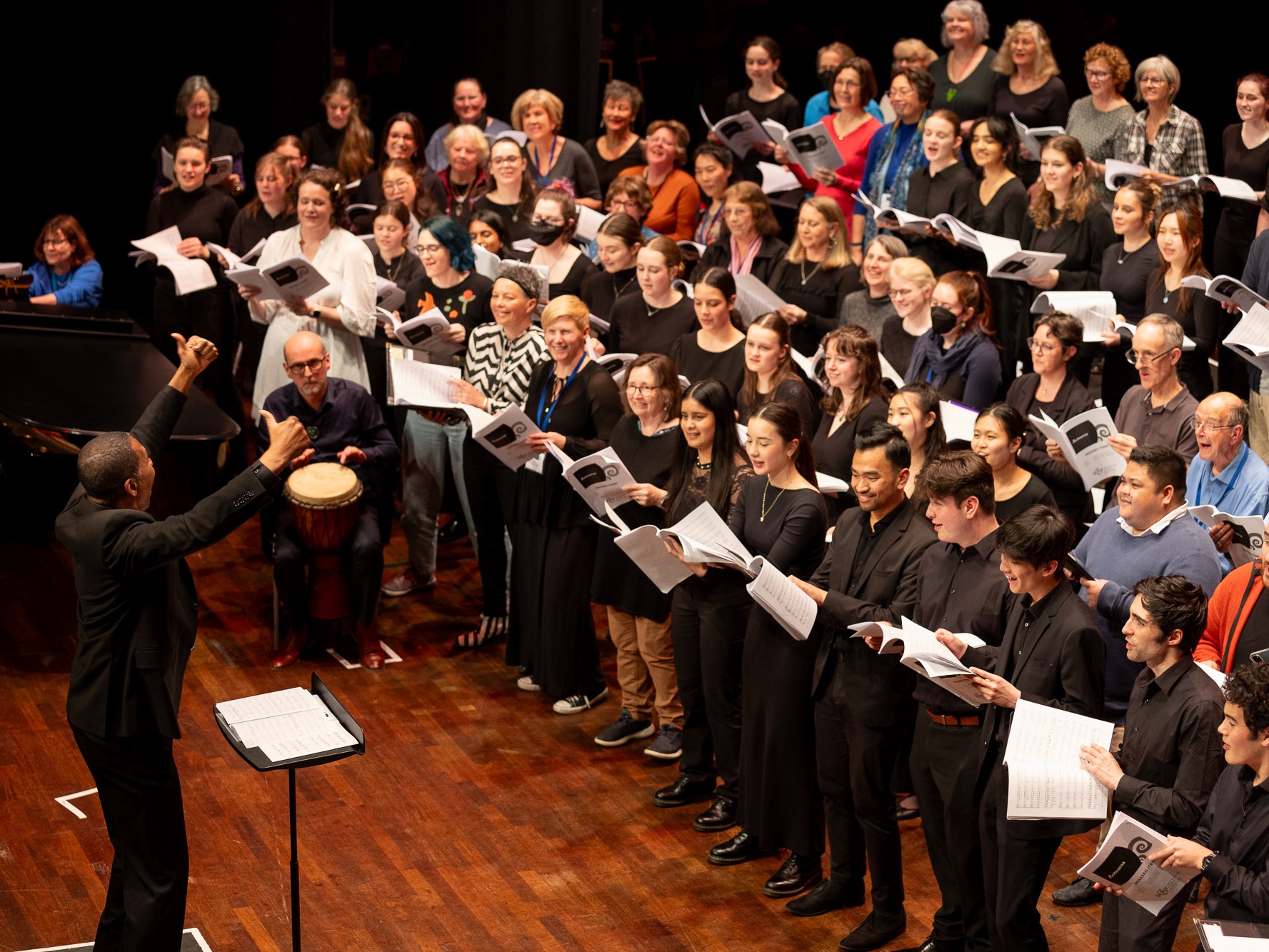 Rollo Dilworth conducting the massed choir at Sing Aotearoa '23. Photo credit: SAVS Photography
---
Katie Chalmers is a member of Wellington's Nota Bene chamber choir and has been a regular attendee at Sing Aotearoa festivals. We asked Katie to share her impressions and reflections on Sing Aotearoa '23.
---
It felt like it had been a while but seeing Sing Aotearoa on offer again I quickly signed up. Having attended the last few I knew there would be rich offerings: local and international conductors and performers, many opportunities to sing and partake in an exciting and varied programme and, most importantly, the gathering of musical friends old and new, sharing the love of singing.
After a mihi whakatau welcome we enjoyed our first rehearsal with esteemed guest conductor and Professor of Choral Music Education at Temple University, Philidelphia, Dr Rollo Dilworth. Rollo's background in African American choral music with a focus on community engagement, diversity, equity and social emotional learning ensured we felt instantly engaged ourselves. This quality continued throughout the weekend. Celebrating the diverse cultures of Aotearoa, NZ Artistic Directors Jono Palmer and Igelese Ete's theme "We are One Voice" brought much stimulation and inspiration, a huge array of performers and genres and a deep sense of connection amongst participants. The Friday evening saw the first of many concerts, the Choral Connect and Sing Aotearoa Gala Concert. We enjoyed stunning performances from Te Wehi Haka, the New Zealand Youth Choir, Gondwana Chorale (Australia's national youth choir) and the New Zealand Children's Choral Academy.
Sing Aotearoa delegates selected their preferred choral stream on enrolment. There were Tui singers focussing on Pasifika and gospel music and led by Igelese Ete and Rollo Dilworth. Korimako singers rehearsed larger choral pieces with Karen Grylls and Rollo Dilworth. The Kokako stream was a small vocal ensemble working on a capella singing with Timothy Wayne-Wright of King's Singers fame. How lucky we are to have a singer and teacher of his experience now living in New Zealand. Work in the three streams culminated in excellent performances at the final Sunday concert. Here we also performed the massed choir items: the piece commissioned for SA by Igelese Ete Tasi La Tatou Leo was instinctly performable and we quickly ditched the scores and enjoyed adding some moves and actions accompanied by the tenor solo voice of Benjamin Makisi. The massed choir performed a piece In Unity by Ysaye M. Barnwell as well as one of Dr Rollo Dilworth's compositions United in Purpose. The words of this by poet Maya Angelou felt very apt and fitting with the theme of the weekend.
Participants were able to take 2 workshops from a choice of 10, with 5 running at once. There was African American gospel music, pop a capella, vocal technique with Catrin Johnsson, Pacific choral music, waiata, barbershop, taonga puoro, the art of a capella, and Samoan singing and dance. All were incredibly enlightening and valuable. We all wanted to to do them all! The Saturday night offered another fantastic concert We are Aotearoa with a huge number of local performers: Rob Thorne presenting Taonga puoro, Lin Zheng's group playing guzheng, the Music Association of Auckland Choir, Rewaken Polycation Choir, Auckland Gospel Choir and a highlight, the wonderful voice of tenor Benjamin Makisi with the University of Auckland Symphony Orchestra. These evening concerts were thoroughly enjoyed along with lunchtime performances from four other local groups. It was a great chance to rest our voices and appreciate the huge range of music making in the community.
The words in Maya Angelou's poem sum up the feeling we took away from Sing Aotearoa: "when we unite in purpose we are greater than the sum of our parts" or in the final words of Dr Rollo Dilworth "Communicate! Light the fire in yourselves and others … group singing will save the world!"
Huge thanks to New Zealand Choral Federation organisers and volunteers for another marvellous Sing Aotearoa. Looking forward to the next one already. Don't miss it!
- Katie Chalmers, October 2023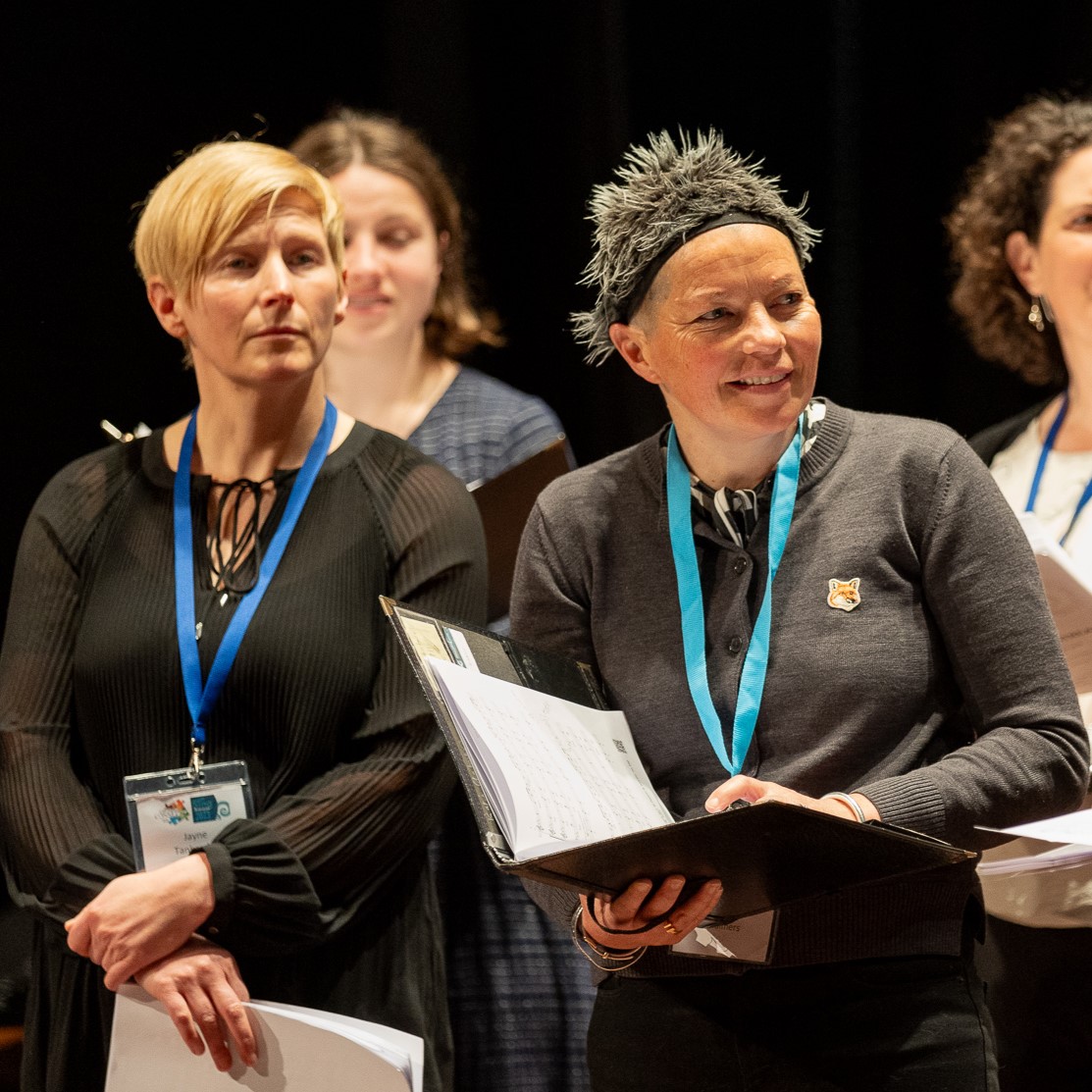 Katie Chalmers (R) on stage at Sing Aotearoa '23. Photo: SAVS Photography.