Kiwis chosen to attend WSCM2023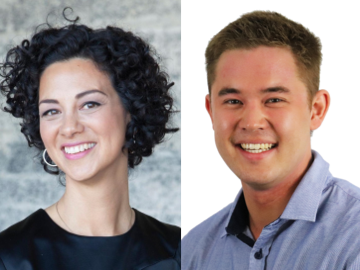 Fiona Wilson and Brydon Sundgren have each been chosen to participate in the World Symposium on Choral Music in Istanbul later this month. Fiona will take part in conducting masterclasses with Ragnar Ragmussen and Brydon will be part of IFCM's YOUNG International Youth Cultural Management programme. We asked them to tell us what will be involved in their respective programmes...
Brydon writes: "I am very excited to be attending WSCM 2023 as part of the YOUNG programme. This programme is an opportunity for young people to be involved with the symposium, by volunteering to be part of the organising team and getting hands-on experience in delivering the event. Ten individuals, each from a different country, have been selected to participate.
The opportunity to apply came after I saw a post on the NZCF Facebook page in December 2022 advertising the programme. On a whim, I applied the day applications closed. I was informed that I had been selected just over a month later.
As well as helping, I am looking forward to hearing some exceptional international choirs, participating in workshops and meeting fellow choral singers from around the world.
WSCM will be an inspirational event to be a part of. It's fantastic to be attending this event in Istanbul, which is so rich culturally and historically."
Fiona says: "I'm delighted and honoured to be participating in the World Symposium on Choral Music as one of six international guest artists learning from Ragnar Rasmussen (Norway) in the Conducting Masterclass programme. I will be working with two Turkish choirs - Rezonans (SATB) and Sirene (SSAA) - in morning, afternoon and evening sessions from 22-27 April. The programme culminates in public masterclass sessions for the delegates and a Masterclass Concert.
I am looking forward to representing and sharing our New Zealand choral traditions as well as learning from Ragnar and the Masterclass participants who represent Guatemala, Lithuania, Estonia, Türkiye, Slovenia, and Indonesia.
The theme of WSCM 2023 is Changing Horizons and I see this as an exciting opportunity to learn more about singing traditions from around the globe and to bring new ideas and points of view back to New Zealand.
I am grateful for the wonderful support of Westlake Girls High School by presenting me with a Travel Award, enabling me to accept the invitation of guest artist and cultural ambassador at WSCM 2023."